Unsolicited Applications- Nepal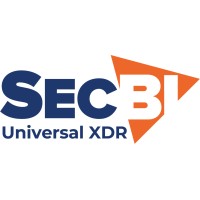 SecBI
IT
Kathmandu, Nepal
Posted on Monday, May 29, 2023
About Logpoint
Headquartered in Copenhagen, Denmark, with offices across Europe, the USA, and Asia, Logpoint is a multinational, multicultural, inclusive cybersecurity company. Logpoint bolsters organizations in the fight against evolving threats by giving them a single source of truth — an intuitively designed platform with the powerful capabilities needed to ensure their safety. Powered by machine learning and backed by an industry-leading support team, Logpoint's cybersecurity operations platform accelerates detection and response, allowing organizations to respond to tomorrow's threats.
Logpoint's core belief lies in creating software that empowers security teams to make confident decisions, feel justified in their choices, and more efficiently protect their organizations. That principle has earned Logpoint the trust of more than 1,000 organizations worldwide, as well as a place in Gartner's Magic Quadrant.
The company's culture prioritizes passion, innovation, team spirit, and client satisfaction. Together, these values fuel Logpoint's success across cybersecurity technologies: from SIEM, UEBA, and SOAR to SAP security, converged into an integrated security operations platform created to protect the digital heart of organizations.
If you consider yourself one of the best within your field, and don't see the right position open, we would be happy to hear from you.
Requirements
Please submit your CV and cover letter.
Benefits
Attractive salary based on experience and qualifications.
Social Security Fund (SSF).
Working in a team environment where initiative and dedication are encouraged.
An equal opportunity workplace that values diversity and does not discriminate.
High level of responsibility and excellent career possibilities.
Open international work environment.
Festival expense allowance.
Medical and accidental insurance.
Gymnasium/Fitness Membership.
Working at Logpoint
Logpoint is growing rapidly, we offer a challenging and exciting international work environment on the cutting edge of cybersecurity technology. We strive to deliver outstanding results in a positive, collaborative, and informal atmosphere with ample opportunity for personal growth and development.